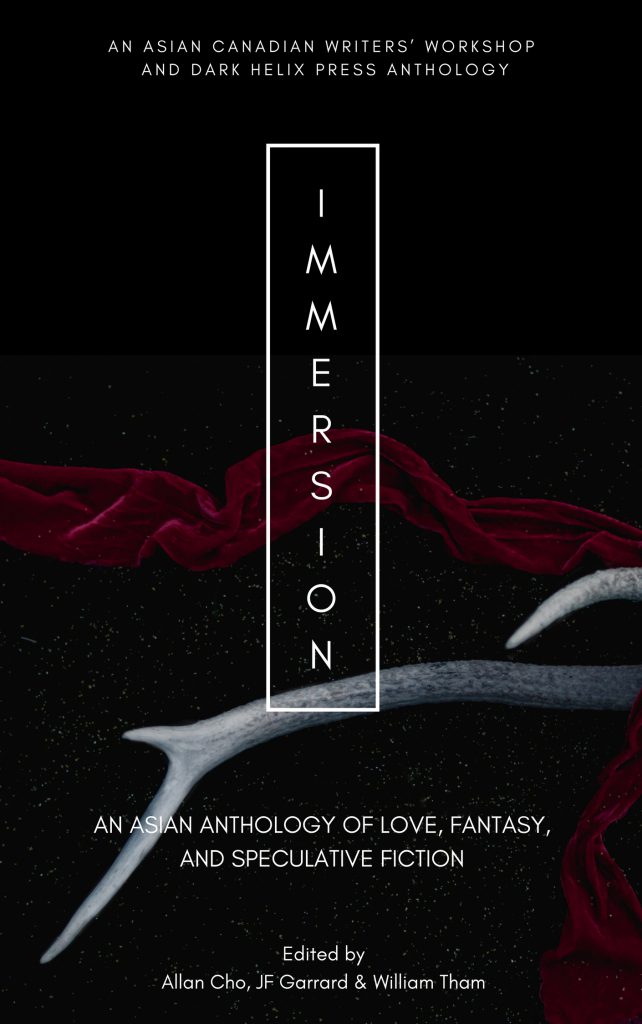 Call for Submissions: Immersion: An Asian Anthology of Love, Fantasy, and Speculative Fiction
Deadline:
Open February 15, 2018 – December 31, 2018
Asian Canadian Writers' Workshop and
Dark Helix Press
are collaborating! We are searching for submissions for "Immersion: Love, Fantasy, Science" an anthology of speculative fiction stories to be published in the summer of 2019.
The anthology editors are Allan Cho, (
AlliterAsian
), JF Garrard (
Trump: Utopia or Dystopia, The Undead Sorceress
) and William Tham (
Kings of Petaling Street
).
Construct a story about an Asian main character set in an immersive alternate past, present or future. Fill this reality with hints of reality, magic, or fantastical but believable science. If you are interested in writing about a motorized caravan train across the Silk Road, or sages searching for magical apprentices in the South China Sea, now is your chance. We also like good wuxia swordplay and other martial arts as much as we enjoy postcolonial politics and other contemporary topics. Draw on your heritage and transport us to a different world.
We are collecting short stories and flash fiction; please make sure there is a beginning, middle and an end.
Stories may be dark in nature, but no gratuitous violence, sex, or racist content. Novel excerpts not encouraged unless they tell a complete story.
Submission Requirements:
Authors must have a geographical Asian heritage
Use standard manuscript format, but with emphasized words in italics. We only accept file formats of .doc, .docx, or .rtf only.
Works submitted must be completely original. Previously published work is fine as long as you have the rights to the story and acknowledge the original publisher.
English translations of original stories are welcome.
We encourage simultaneous submissions; however, please notify us as soon as possible if it is
accepted elsewhere for publication.
Short Stories should not exceed 6000 words
Flash Fiction should not exceed 1800 words
Submission Steps:
1) Please fill in this
google form
, this ensures your name and story is added to our database.
2) Then email your submission to anthology at asiancanadianwriters.ca.
Payment:
Contributors will be paid $40 CAD per short story or $20 CAD per flash fiction and an e-book contributor's copy. If a print book version is made, authors have a chance to obtain copies at a discounted rate. Rights: First World Rights for an anthology in the English-language. Exclusive rights prior to publication and non-exclusive rights for the anthology. You maintain the rights to your story, but if you send it elsewhere please mention that it was first published by us.